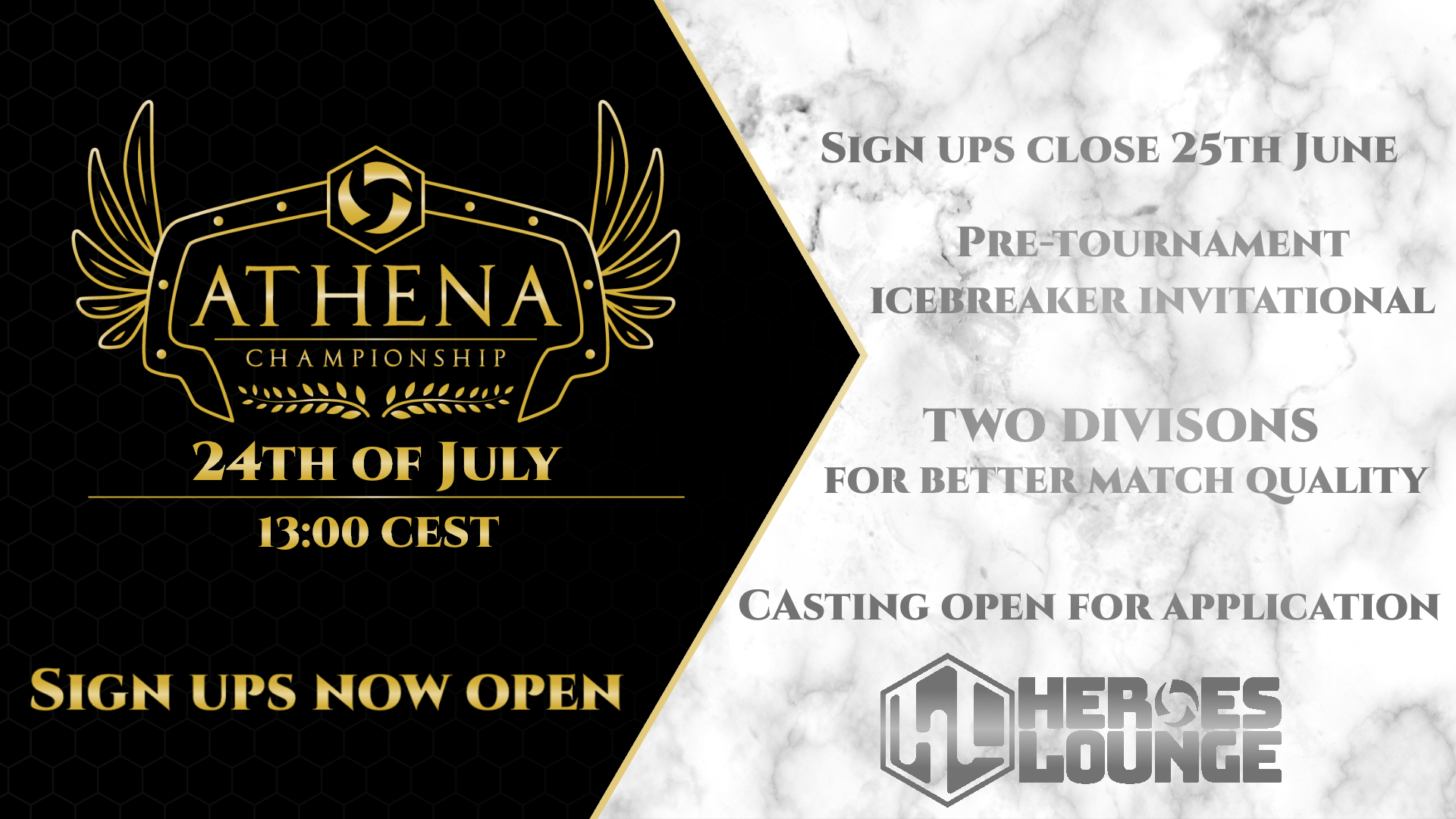 The Athena Championship Returns!
After a successful event, we are proud to announce the return of the Athena Championship!
It was a fantastic celebration of the women in our community in Heroes of the Storm and we want to keep going with the momentum we created.
This time around we are hoping to make a few changes to both twists and improves on the tournament.
Two Divisions
In our first rendition of the Athena Championship, despite some of our best efforts, it was quite hard to balance all the teams. This led to a disparity where the match quality felt unfair.
With two divisions we hope that we can provide a balanced enjoyable experience for all teams!
Team Sign Up
We acknowledge that many players from our last tournament may want to sign up as a team! So this time round we have allowed teams to sign up altogether!
More time
Many players who signed up felt like they wanted more time, this is why we are increasing the time to sign up (so maybe you can find a team of your own) and after signing up before the event.

Here are the key dates:
June 6th Sign-ups open
June 25th Sign-ups close!
Seeding 26th of June
Icebreaker invitational 10th of July
Tournament 24th of July
Sign up details
In order to sign up, fill out this form: https://forms.gle/DnY7ChHzdzx31VkcA
In case you do not have a Heroes Lounge account yet, please make one: we will need it to form the teams and run the matchmaking during the day!
In the form, you can tell us your preferred roles and skill level. If you already have some people you would like to play with you can let us know that as well, we will try to take these into account, however, in order to get the right balance between fun and competitive day (in which you will hopefully also make some new friends!), we will be mixing it up a bit in terms of skill levels!
After signing up you will gain access to the Athena channel in the Heroes Lounge Discord server in order to find your teammates and have a chat. Signups will close on the 25th of June at 23:59 CET.
In case you have any questions, please don't hesitate to ask. The contact point for the Athena Championship are TinyOwl and Transparent, they can be reached via our Discord server.
Written by Transparent
EU League Manager and Nexus Rumble coordinator, Athena Championship Creator