Louka's Meta Mayhem!
Hello fellow sloths!
A new tournament is heading your way and will be taking place on the 19th and 20th of June.
It is going to be run in the classic Meta Madness format with a little bit of extra mayhem sprinkled on top! What is this extra mayhem you ask? Well, there are going to be some extra maps in the map pool (who doesn't love some Blackhearts Bay and Warhead Junction) and the map pool you can select from will be randomly determined by a bot. The best part is that there will also be a cash price for the winners of the tournament of £100! If this sounds like something you would be interested in, then continue reading below.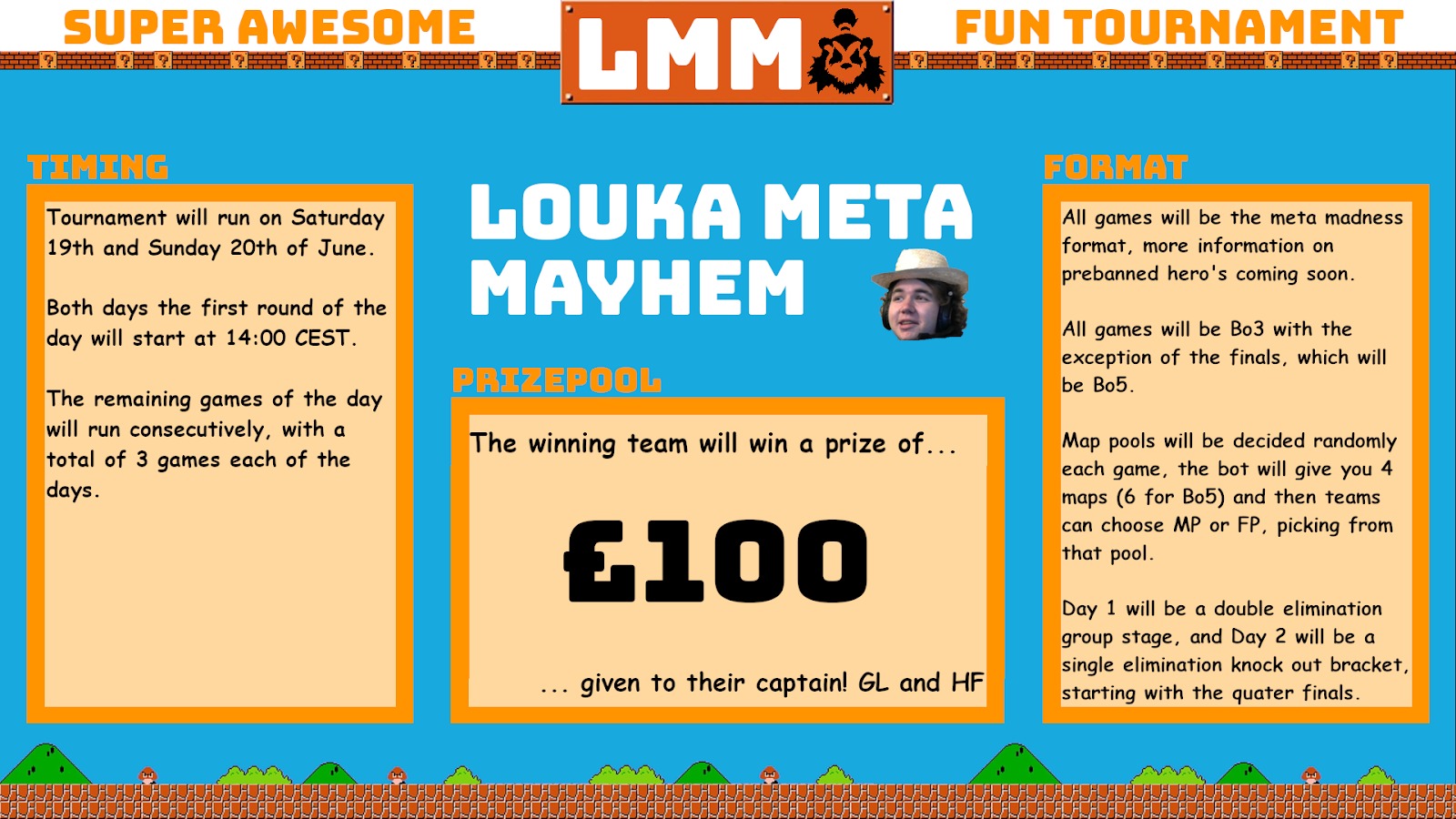 ---
Info/Sign-ups
The tournament will run on Saturday 19th and Sunday 20th of June. Both days the first round of the day will start at 14:00 CEST for any team that hasn't received a BYE!. The remaining games of the day will run consecutively, with a maximum of 3 games on each of the days.
All games will be the meta madness format, with globally banned heroes to be determined together with the team captains.
All games will be best of 3 with the exception of the finals, which will be best of 5. Map pools will be decided randomly each game by a bot, the bot will give you 4 maps (6 for Bo5). In normal Heroes Lounge fashion, the bot will also determine FP/MP for the first game, and then the loser can opt for MP/FP, picking maps from the assigned pool.
Day 1 will be a double-elimination group stage,
Day 2 will be a single-elimination knock-out bracket, starting with a round of 8.
Sign-ups are done in teams of 5, using this link: HERE
Please create your team on the Heroes Lounge website when signing up.
There are only 16 team slots, and they are given on a first-come, first-served basis.
Please join the discord below if you are interested in joining (mandatory for team captains), more information and rule sets will be shared there.
---
If you have any questions you can send a DM on Discord to Louka#0871 or Clairw#5226