Season 5 sign up are now open!
Hey folk, great news! Signups for season 5 are open NOW. We officially welcome everyone, Bronze to Grand Master to come and play in Europe's largest Heroes Of The Storm amateur league. It is free, and with no fees charged to participate in all our leagues. We have awesome regular games, an active community and casted games on Twitch! Be quick though as sign ups are open until the 22nd of October 2017.
Season 5 regular play will run for nine rounds, first round starting 6th November 2017 ! Regular season runs until 26th January 2018 , where we will round it up with more awesome playoffs.
Hyped?! Please read on how to sign up for our awesome new bigger better season 5!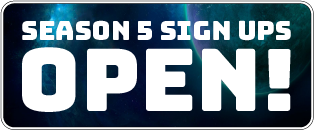 Season 5 Signups close the 22nd of October 2017!
---
New Player? Sign up now!
You can sign up as a team or as individuals here (clarification: all members of the team have to sign up individually and you can later create a team). If you're an individual interested in getting involved in season 5, you can start finding a team either by checking out if teams are looking for players on the website or checking out our Discord. Could not find a team? Worry not! Players signed up for season 5 who have no managed to join a team will be assigned into free agent teams automatically, which will aim to group you with players in similar situation closest to your skill set. This automation comes to you courtesy of our very own hamster rig squad.
Have a group of friends but not a full team? Don't worry, you can also recruit players in our discord. Teams that don't have a full roster will be given the same treatment as individuals , where we will assign you a free agent. So rest assured that you will always manage to get 5 players in your team.
Discord
is a vital part in our communication with players, make sure to check it out.
Be sure to check out rule set for more information.
Teams signing up for new season
Existing and new teams who have not signed up for season 5 yet will now notice a new notification in their team management tab.

Existing teams who are interested in continuing the new season can click on the season 5 checkbox and update participation.

Once you've clicked on the update participation button, you're officially signed up for season 5! We welcome you to join us for more meme time, sloth emotes and Petman spams.
---
Timeline for Season 5
Here are the details of the season 5's regular season timeline. As the season will run through December, which is a traditional Christmas period, we will be giving teams a 2 weeks break this season between round 6 and round 7.
| | |
| --- | --- |
| 15/10/2017 | Final playoff game of Season 4 |
| 22/10/2017 | Signups for Season 5 closes |
| 06/11/2017 | First round of Season 5 |
| 11/12/2017 | Sixth round of Season 5 |
| 18/12/2017 | Two week break for Christmas begins |
| 01/01/2018 | Seventh round of Season 5 |
| 15/01/2018 | Ninth round of Season 5 |
| 26/01/2018 | Final date regular season games can be played |
(caveat: we reserve the right to change them if it is in the best interest of the community)
As always if you have any questions whatsoever, do not hesitate to ask a moderator or staff in our discord. Have fun, GGs and let the sign ups begin!