I can beat you with just one hand ..
-- Azmodrunk
Not many teams claim to be able to beat their rivals with a single hand, but here is a team who have succeeded three times this season. Some may claim it is BM, others claim superior mechanical skills, the author however believes they do it because Azmodan has commanded them to do so (a.k.a. bribed them with beer). In this edition of Inside Lounge we will bring you Azmodrunk; a two season veteran division 5 team who are sitting comfortably in the middle of the pack.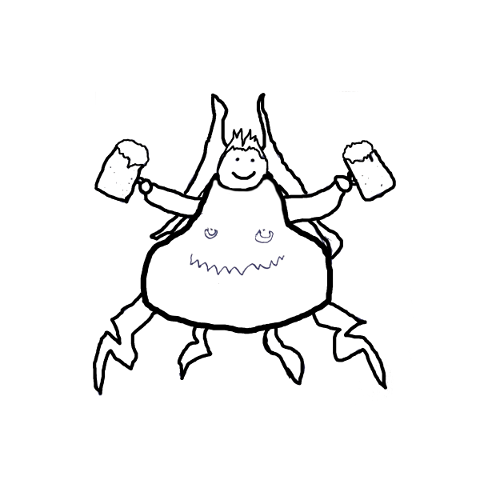 ---
Hello Azmodrunk, thanks for taking time for the interview. Would you like to introduce yourselves to our readers?
Hi everyone! How to define Azmodrunk? We are both a Heroes of the Storm team and a group of semi-professional beer drinkers based on Albacete, Spain. Let's introduce our seven members:
Arkist: Hi there! I'm Arkist, and I became captain of Azmodrunk because no one else wanted to be in charge :D My main role is tank, but I also feel comfortable with other roles and heroes. I started playing the game like 1 year ago without any previous MOBA experience. In real life, I'm a 25 year old computer scientist working on robotics. My free time is normally spent playing videogames and music, as I play bass guitar in a rock band.
iEddie23: Hello everyone, I'm iEddie23 and I'm the support player of the team (at least I try to). I'm 25, and I started playing a year ago with Arkist and pepelu. Back then I played Chromie a lot, but I ended up preferring supports. I'm comfortable with all the supports, but I normally prefer Uther, Kharazim or Malfurion, to name some of them. I've always liked Warcraft and Diablo, and I enjoy using the great heroes of both universes. P.S. Blizzard we need an Azmodrunk skin, please.
Melkor: Hi there I'm Melkor. I've been playing MOBAs since the WC3 map DotA. I enjoy every role in this game, as it is so different to the others, but in my team I usually play as Assassin. In my private life I'm a doctor with an Internal Medicine speciality, which consumes almost every hour in the week, so in my free time I enjoy playing games with my friends and going out to have some beers.
Khazrael: Hi everyone! Khaz here! Azmodrunk's single-handed player. My main character is Gazlowe but my team never trusts me, so… they asked for a bruiser player and that's what I normally do. I'm a freelance graphic designer, and like Melkor I enjoy my free time with friends, playing games or having some beers.
Chajax: Hi I'm Chajax, also know as Pepe, the alpha player of the team. I'm 25 years old and I'm currently an university student. My main role is tank or support but I can play every hero in this game (except for Probius, I hate Probius).
pepelu: Hi guys, I'm pepelu and I'm 24. I started playing Heroes of the Storm with iEddie23 and Arkist. I've never played a MOBA before, so this is my first time (still talking about the game :P ). I prefer playing specialist but it's not a mandatory role in competitive games, so I normally play ranged assassins. In real life I am a teacher and I'm still studying. My life is pretty much normal, I work or study at day and relax at night. At weekends I like to hang out with my friends.
Majin: Hi there! I'm Majin, the latest addition to Azmodrunk's roster. I've known Khaz and Chajax for some time, I'm 28 and I work as a software developer. I've always loved computers and videogames and have been quite talented at them since I was a little kid, after countless hours (more than i'm comfortable revealing) in Warcraft III, Diablo II and III and WoW, it's only natural I got interested in HoTS. I've always played support, but since iEddie23 is the main support of the team now I only play it in dual support comps. However I can handle pretty much every hero in the game like Chajax.
How did the team form, tell us how you found yourselves.
We all live in the same city, and some of us met a lot of years ago in elementary school and high school. Arkist, iEddie23 and pepelu were bored from other games and wanted to play an online free game, so we decided to give HotS a chance. After a few months losing against adept IA, we decided that we were ready to play with more experienced friends like Chajax and Khaz. A few months ago, Arkist found Heroes Lounge reading the HotS subreddit and we decided to create a team to show the whole world our awful level.
Despite being named Azmodrunk, I've not actually seen many Azmodan plays. Is that name a potential bait for your enemies to waste a ban?
You have seen exactly 0 Azmodan plays :P We wanted a funny name related to the game, so we tried to mix different map and hero names to create a good name. We were having some beers when we came up with Azmodrunk, and we immediately agreed that the second part of the name defines us perfectly.
P.S. The runner-up team name was A-Noob'Arak
You're now one of the more established teams in Heroes Lounge, how're you feeling about the new season so far?
Second season here for us. Our objective for last season was to win a match, and we did it! (we won exactly 1/8, the 9th match was a free win). Our goal for this season was to double our previous performance and win two matches, and we have already won three, so we are pretty happy :)
What are your hopes and dreams for this season?
We are doing better than expected, and we will try to end the season on the first half of the table this time. However, we know that this is just a bunch of pre-season games, the real tournament is Pleboffs.
Rumour has it one of your members has a prosthetic hand! It must be an interesting challenge playing a MOBA with it. Would you like to give us a bit of detail on that?
Khaz: It's not just a rumour… it's true! Fictional casted our first Heroes Lounge game, and I sent him a pic of the team celebrating our first defeat, beer in hand. It took too many Broken keyboards trying to hit the correct key with my stump. But eventually, my precision grew and that's why I can play MOBAs and shooters. The rest of the team can tell you the suffering of having me with them.
Teammates: He plays with a mouse with infinite buttons, and blames the mouse when he do something wrong. Even with that he's undoubtedly one of our best players!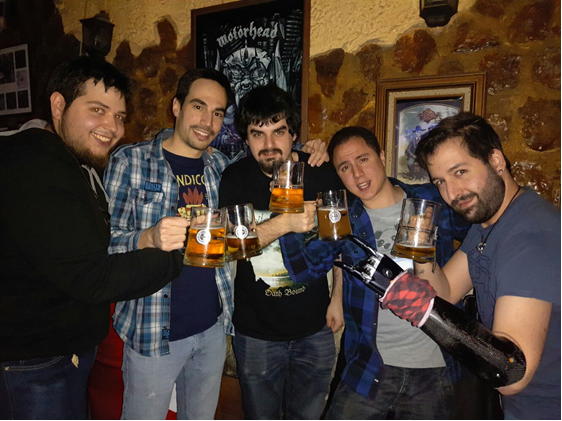 Any shoutouts?
Of course! We want to thank our tiny fanbase for their support, they always try to see our casted matches to tell us how bad we are :) We also want to thank Fictional, he helped us a lot when we were a newcomer team and he's always there to give us some advice. And of course thanks to everyone that forms Heroes Lounge, you guys have created an awesome community and a very funny tournament!
Go Azmodrunk!
---
That wraps out our interview with Azmodrunk! Thank you to members of Azmodrunk for the interview, I hope you guys enjoyed it. As always if you have any feedback, suggestions, interview requests, or would just like to tell me how awesome the interviews are, you can always find me on discord. Any other kind of feedback, suggestion and criticism can always be directed at us through our Discord, or via Twitter or Facebook. Don't be shy to come say hi, and meme with us.