Griefings, fellow sloths!
Pio, Peaky and Shiny here to start bringing you consistent information on how Heroes of the Storm is looking in Europe's Division 6!
We will be looking at both hero and map popularity in the division taking an evolutionary approach! We want to be able to get a good idea of how the Division 6 meta changes as we move deeper and deeper, as well as how players start to adjust to previous challenges encountered. That being said, let's begin!
---
Hero Stats!
When it comes to tanks, Division 6 seems to all be of the same mind, agreeing that Anub'arak is a huge threat to let through in a game, having banned him a total of 11 times out of 21 games in the first round of matches! He was then picked 5 times and won 3 of them, bolstering a 60% winrate and an outstanding 76.19% popularity!
Anub'arak was not the highest popularity tank though. Johanna was the most popular tank, and hero overall, in round 1 with an 85.71% popularity! She was only banned 5 times, however, saw play in 13 games, having won 6 of them. This means that the most popular hero only had a 46.15% winrate. Knowing this, will Division 6 perhaps adjust their tank priority? We will have to see!
To close up tanks we have Diablo and Garrosh, both having been banned 7 times, displaying win-rates of 33.33% over 3 games, and 60% over 5 games respectively.
Moving onto heroes played as off-tanks we saw Chen banned a surprisingly low 3 times, and even more surprisingly never played. What we did see were picks like Zarya and Tyrael emerging as a one-time play this round, both having secured the win when picked! Congratulations to piuki from Maracaibo and karim3del from To Shreds you say for those wins!
The most popular off-tank picks were Leoric with a 33.33% popularity and Blaze with a 28.57% popularity, both having success in most games played, displaying win-rates of 66.67% and 80% respectively!
When it comes to healers, Ana and Tyrande were considered as the strongest of all having 52.38% and 42.86% popularity respectively. However, when it comes to playing they both failed to shine. Ana was seen in a single game having been banned 10 times, and lost. Tyrande, on the other hand, was only banned twice, letting her see play in 7 games of which she only won 3. This gives Ana a 0% winrate in round 1, and Tyrande a 42.86% winrate (which is surprisingly also her popularity).
We did see however, Deckard Cain be played twice and maintaining a 100% winrate in round 1, Anduin be played a total of 5 times, bolstering a 60% winrate with 3 wins, and Rehgar be played a total of 7 times, bolstering a 57.14% winrate with 4 wins!
And finally, damage dealers! Division 6 has a clear favorite mage, and assassin overall, and it's Jaina, with a 57.14% popularity, having won 6 of the 10 games she was in, leading to an impressive 60% winrate! The second most popular mage was Gul'dan with a 38.1% popularity, having seen play in 5 games and only winning 1 of them, leaving him with a very sad 20% winrate!
The second favorite assassin was good ol' Raynor, who kept a 42.86% popularity in the round, having seen play in 9 games, of which he won 4, leaving him with a 44.44% winrate!
To close out the assassin overview and Hero Stats section, we would like to point out the hero that could be considered the most effective assassin in round 1: Greymane! He kept a 100% winrate over 4 games, being the assassin with the most games played out of the perfect winrate picks such as Cassia and Falstad! Will we now see more Greymane play in future rounds? We can only wait and see!
---
Map Stats!
When it comes to maps there must be some kind of a Gentleman's agreement because Division 6 teams are all pretty sure they don't want to play on either Sky Temple or Garden of Terror. A total of 0 games were played on these two maps and they got banned six times each, so these two maps must really be hated. On the other hand, we have Volskaya Foundry with six games played and only once banned, which gives it the first place in terms of map popularity with 87.5%, followed by Battlefield of Eternity and Alterac Pass, both sitting at 75% popularity (2 games played and 4 bans), and of course our both "Hate"-maps which got banned out 6 times, also having a 75% popularity!
Now we get to the fun part: we saw a total of eight matches resulting in 21 maps being played out. This leads to every series having an average of 2.63 maps played. We have a very competitive Division 6 with a lot of games and only a few one-sided games. That being said, we are looking forward to the upcoming weeks!
---
And now, Ladies and Gentlesloths, we present you with (probably, maybe…) the first ever Power Ranking for Division 6! Each week we will be posting a list of the Top 20 players!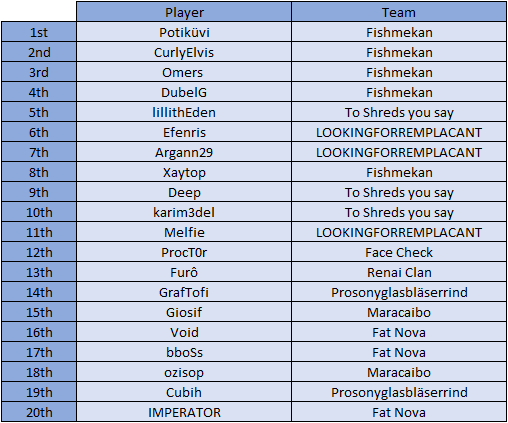 The Power Ranking positions above were calculated using a formula that considers both the team's performance in each round, as well as individual performance across some certain fields. We want players to keep trying their hardest on their journey to be the best players they can, while still emphasizing the importance of cooperation!
---
Best round 1 games to watch!
Twenty One Esport VS Renai Clan game 3 on Cursed Hollow:
Renai Clan showed better micro but Twenty One Esport displayed better macro during previous games of this best-of-three. This last game decides the winner. You really need to watch this amazing game, to be honest.
Good Grief! vs Maracaibo game 3 on Alterac Pass:
The third game of this close best-of-three. A lot of kills for 25 minutes of pure fun for all you bloodthirsty fiesta-loving DarthSloths!
Bear With Me vs Goats forHire game 2 on Dragon Shire:
After Goats for Hire won the first game, Bear With Me absolutely needed to win this map to stay in the round! A long but good game!
---
And now just to finish off round 1, we would like to give out a few awards!
The MVP of round 1 is lillithEden from team To Shreds you say, with two very strong games on Lucio and Deckard. Even more impressive, lilithEden was one of the few Division 6 players to not die! Congratulations on getting the first MVP in Division 6 and well played!
Our next award is going to team Twenty One Esport. They won their round 1 matchup against Renai Clan while getting farmed left and right! This gives them the Pacifist award and cements them as round 1's Macro Kings! Congratulations Twenty One Esport!
And our last award is going to a very special game. The game with the most kills, to be precise: Good Grief VS Maracaibo with a whooping total of 83 kills, so congrats to both teams for having created such a massacre on both sides. Always getting greedy for kills!
---
Thank you for reading and hope you enjoyed!