Season 7 is in the books, and the best teams in each division have made their way through 10 regular season matchups and occasional tiebreakers into the playoffs, which for Divisions 3, 4, and 5 means a spot in the HeroesLounge Cup. After 903 matches played collectively by all the Cup teams, this is already a considerable achievement in itself, yet the competition doesn't stop here. Currently the 16 teams in the Cup are fighting for a top 3 position in four groups in order to punch their ticket to the double-elimination playoff bracket. That's the perfect time to bring you some quick facts and stats about each of the participating teams.
---
Some notes before we get started: Since it doesn't make much sense to focus on win rates with teams that have won most of their games and made it to the playoffs, this time we will focus on team and individual player stats. All stats are best-of-all-playoff-teams, not best overall. If you played in Season 7 and didn't make the playoffs and still want some follow-up on the meta snapshot posts, worry not, those will come in the offseason.
---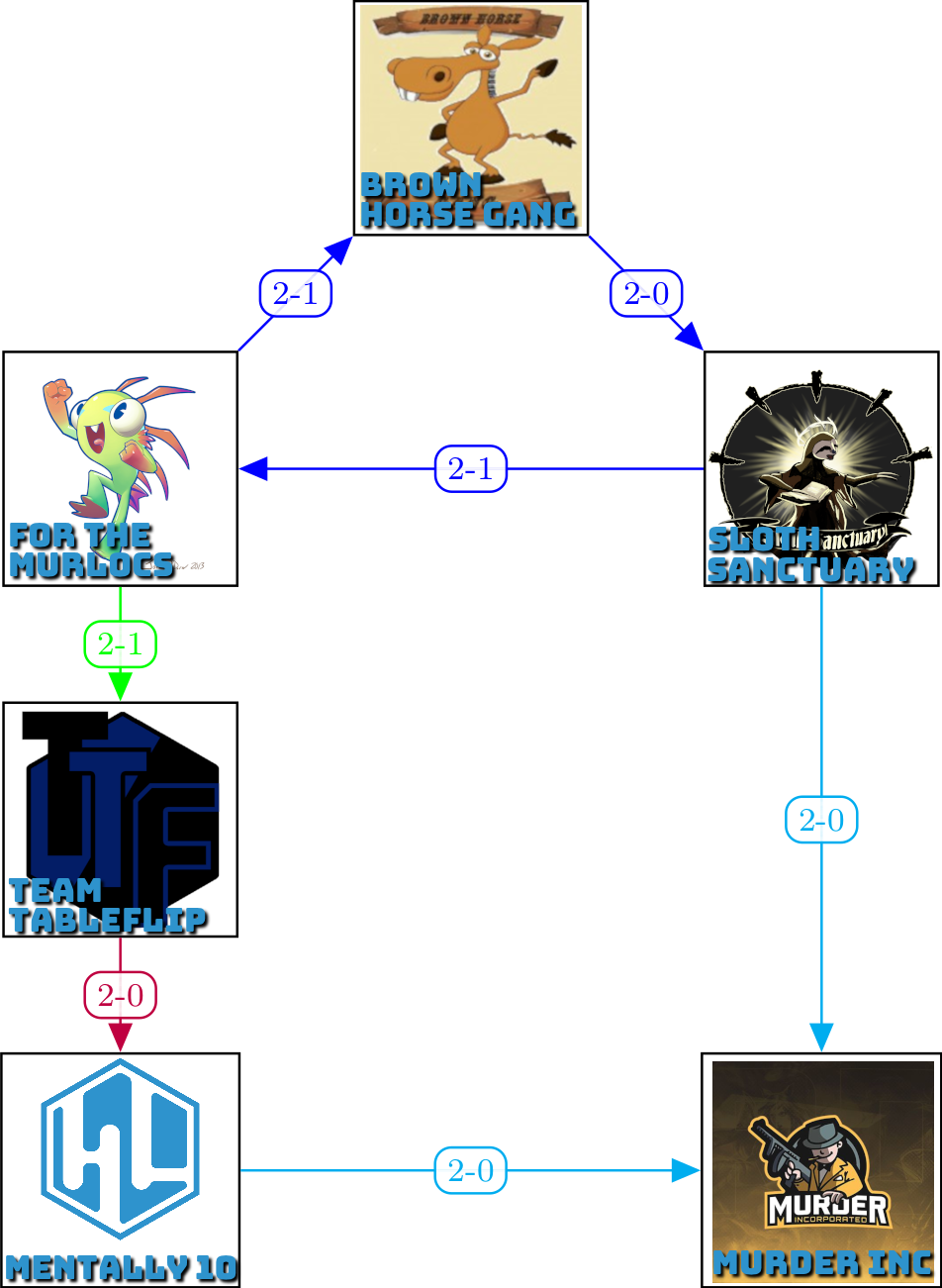 Division 3 regular season matchup overview

---
Group A
Coming in as the first seed from the highest division to partake in the Cup, these players are already shortlisted as one of the favourites to take home the trophy. The most impressive thing about this team is their hero pools. They have overall played 40 different heroes, more than any other team in the Cup. On top of that, their tank player Chuckii leads the damage taken per death stats for Div 3 with 50.3k on average playing ETC (5), Diablo (5) and Muradin (4). Wolfy sports Div 3's highest damage per minute number (3044) over his 14 games mainly on Maiev and Jaina. Their only loss during the season came in the form of a 1-2 against For The Murlocs, whom they might face again later in the playoffs.
Murder Inc. (7W-3L in Div 3, 7th place)
While their name sounds scary, not much else can be said about these Spaniards. A 6 man roster, they used a total of 3 additional players as subs throughout the season and slipped into the playoffs without having faced one of the two top teams from Div 3. Their only other games against fellow playoff contenders ended 0-2 against both Sloth Sanctuary and Mentally 10. While that relative anonymity makes it hard to gauge how good this team really is, it might be their biggest strength as opposing teams will have trouble preparing for specific strats. One player to look out for is captain Yoloakin, who has by far the highest KDA (10.3) of the regulars on the team, and has played predominantly Raynor and Hanzo, but also Johanna, Muradin and Sonya when the situation called for it.
Killer Koalas (7W-3L in Div 4, tied 3rd place)
More homicidal inclinations in group A can be found in our Div 4 representative of the group, Killer Koalas. While they, just like Murder Inc., weren't slated to meet the top teams from their division during the regular season, other teams still shouldn't mistake them for easy prey. Especially not their assassin player, AntonoBanono, who has racked up the highest kill average per game in Div 4 (5.19) mostly playing Raynor and Valla. Hand-in-hand with that goes their favourite support pick of Auriel, which isn't seen very often in Lounge matches these days. As a team, they have been around the Lounge since season 5, one of the older Lounge teams in this season's Cup.
Body Block Crew (7W-3L in Div 5, tied 4th place)
Fighting for their tournament lives from the very start of the playoffs is a reality for most Div 5 teams in the Cup, but Body Block Crew went through extra hoops just to make it to this point. They lost a tiebreaker to DDGG in preparation of the playoffs, then had to play another tiebreaker and beat PLagueMakers to secure the last spot in the postseason. As a 9 man team, they are a bit of a mixed bag, although only 7 of their 9 registered players have played games throughout the season. Their support player EternaL sports the highest KDA in the entire Cup (13.96), and their offlaner Tetro leads the damage taken per death category in Div 5 with 37.8k on average, so the individual talent is not something this team is missing. As a team, they have the shortest average match length of all teams in the Cup with slightly over 17 mins per match. Compared to BrownHorseGang, their hero pool is just 26 heroes wide so far, although they've shown to be very dangerous with certain niche picks (Thrall, Kel'thuzad, Ana). Is all of that going to be enough to survive groups and make it to the knockout stage?
---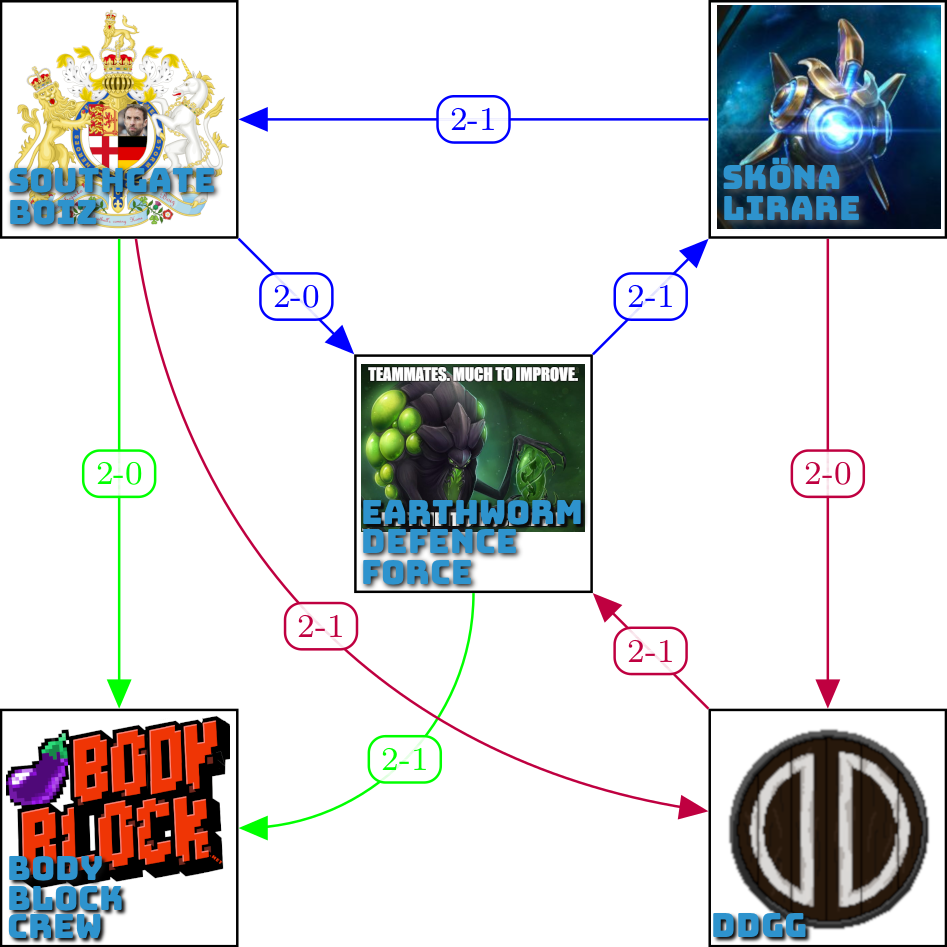 Division 5 regular season matchup overview

---
Group B
Team TableFlip
(7W-3L in Div 3, tied 4th place)
TableFlip has had a rather quiet season, only facing two other playoff teams in Mentally 10 (2-0 win) and For The Murlocs (1-2 loss). Next to Earthworm Defence Force, they are one of the teams with the most consistency, only their assassin player Tulle was replaced by sixth team member Azukan once in the season, everyone else played every single map. In terms of their picks, Hat stands out the most with 6 Zeratul (4-2) and 5 Zarya games (5-0). Their tank player Phreak's Diablo is another one to look out for with 6 wins in 8 games. They do seem to run a flexible offlane concept and don't commit to the traditional offlane bruisers too often. Most of their games were pretty balanced compared to some other teams in this list, ending with an average level differential of 0.5 levels above their opponent. And with 23 total maps played, they are also one of the teams which has gone through the season without any free wins, meaning they've earned their spot in the playoffs the hard way.
Mentally 10
(7W-3L in Div 3, tied 4th place)
Mentally 10 is one of the bigger question marks on this list for me. Also hailing from Div 3, they come in with essentially the same record, although at some point in the season they lost their main tank player and had to bring in a bunch of subs for the remaining games. In their first postseason game, we've seen Eren of Cupcakes Anonymous take over the main tank role for them and put fear into their opponents on her Diablo. The team has had a lot of success in terms of the stats throughout the season despite their roster issues, with ZooKeeper coming in with the most average siege damage of all Cup teams (121k), AoqinOkimoto racking up the most average kills per game in Div 3 (6.21), and support player Baini sporting the highest individual KDA of all Div 3 teams (10.96). As a team, they were consistently the fastest to level 10 (6:37 mins), meaning if you face them, make sure you don't let them run away with the early game. Whether they have practiced enough with their tank subs to have the coordination required to survive the playoffs is something only time can tell though.
Treehouse Gaming
(7W-3L in Div 4, tied 3rd place)
Treehouse Gaming comes in stock full of Lounge personalities, possibly making them one of the fan favourites for this season's Cup next to Sloth Sanctuary. They have one season of experience in the bag, finishing mid-table in Div 4 in Season 6, and are tied for the most regular season games in Season 7 with DDGG and EDF. During the season, their notable matchups included Death by Monkeys (1-2 loss), Jormungandr (0-2 loss), and tiebreaker team Fish Named Wunda (2-0 win), meaning they lost against both higher seeds from Div 4, giving them one of the tougher schedules overall. The surprise factor on this team is definitely Froge, whom Robb masterfully managed to rigg into a Division 4 team, yet has only played 2 games in the regular season. Eef could be considered the most experienced player in Season 7, playing a total of 32 games with her own team and as a sub. In terms of heroes, you should watch out for Penelope's Jaina (7W-3L) and Robb's Yrel (5W-2L).


Sköna Lirare
(8W-2L in Div 5, tied 2nd place)
One of the most controversial teams in Season 7, the Swedish roster of 9 players have had a comparatively hard season in Div 5 with matches against fellow playoff teams Southgate Boiz (2-1 win), DDGG (2-0 win) and Earthworm Defence Force (1-2 loss) as well as tiebreaker contender PLagueMakers (2-0 win). Due to their placement in Div 5, they ended the season with the highest team KDA (5.6) of all playoff teams, an average level difference at the end of their games of +2.5 levels compared to their opponents, and the most keeps destroyed (33). TracerOnly's signature Tracer has been banned most of the time, but despite the name, he's had success with a variety of other heroes, such as Gul'dan and Raynor. The most consistent factor in the team is the support player Wille, who leads all Cup teams in healing per minute (4385) on a variety of supports, most notably Deckard Cain. Another highly successful element to their season was Samel1's offlane Sonya (6W-0L).
---
Thanks for reading and hopefully enjoying this article. This is all I've got for now, but watch this space for part 2 featuring the remaining 8 teams currently battling it out for a spot in the double-elimination bracket for the Cup. As always, if you have any feedback, questions or concerns, you can reach me on Discord as Llarion#0127.